REDBEAM INVENTORY TRACKING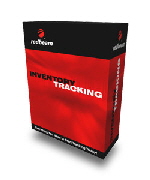 Overview:
Track consumable inventory levels and item movements in stockrooms, small warehouses, and within departments of larger organizations.
RedBeam Inventory Tracking provides for (1) accurate consumable inventory visibility, (2) the ability to run reorder reports, and (3) the ability to take periodic physical inventories.
Features/Benefits:
Keep inventory levels up to date and drastically cut the time it takes to conduct periodic physical inventories/cycle counts. Track item information including item ID, serial #, lot number, expiration date, item type, cost, stock min/max, and more. Popular features include role-based user security, flexible reporting, the ability to import item lists and export to MS Excel, and access to a historical log of all physical inventories.