NiceWatch Enterprise HL7 Edition
NiceWatch Enterprise with HL7 support is a centralized messaging and label printing software solution, specialized for the use in healthcare systems.
It adds the printing functionality to any Healthcare Information System (HIS), Laboratory Information System (LIS), or Pharmacy Information System (PIS).
Patient care and safety do not depend solely on medical staff.
A reliable system that provides errorless identification of patients, medication, samples, treatments, lab results, and health records is indispensable.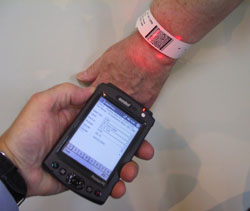 Incorrect identification can result in severe errors, increased costs, and in the worst case scenario, death of the patient. All of these dangers can be averted, and human lives could potentially be saved with the help of available inexpensive technology.
This process begins by marking every patient, medication, and piece of information.
In order to create a fully automated system, which eliminates human error and greatly increases cost effectiveness, the wristbands and labels should include linear or 2D barcode or RFID (radio frequency identification) tags.
NiceWatch Enterprise with HL7 support enables the system to print wristbands, medicine, and patient information, using the standardized HL7 messaging service.
All of the information from an existing system can be printed to any type of printer. No changes to the existing system or purchases of new equipment are needed.
The use of HL7 messaging compliance enables hospitals to simplify patient admittance, patient identification, patient exit administration, laboratory orders etc., while conforming to FDA regulations and healthcare standards.
How does it work?
There are three simple steps:
Send the data from the HIS to NiceWatch Server as
A txt, xml file formatted in the HL7 data infrastructure

TCP/IP message formatted in the HL7 data infrastructure

Any other supported trigger (formatted in the HL7 data infrastructure)
Supervise the system with a web-based application: The Enterprise Print Manager