Teklynx SENTINEL S/5

Moves Label Printing From the Desktop to the Server Room for True Enterprise Label Printing
SENTINEL is a centralized, high-performance middleware solution for automated label printing at the Enterprise level.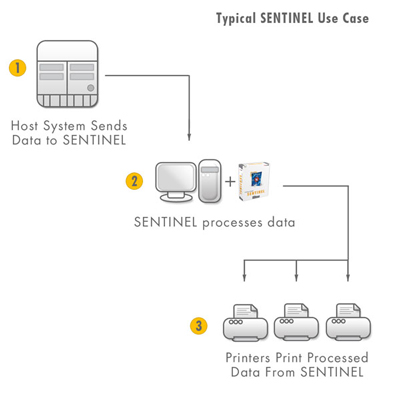 Microsoft "Works with Windows Server 2008" Designation

SENTINEL can integrate with any WMS, ERP, HIS and any other corporate system that can output a data file. Some of the popular supported systems include: SAP, Oracle, AS/400, SQL, XML, JD Edwards, SSA Global (Baan), Sage

SENTINEL can process 5 different types of data input.

Multithreaded printing technology gives SENTINEL a strong, reliable architecture. SENTINEL performs fast, consistently and virtually error-free in any environment.

Reduce errors and simplify the management of multiple label formats.

Centralized, server-based solution — SENTINEL allows you to manage all your printers from one location.

SENTINEL has a data mapping tool that makes it easy to decode input data and map the data to the output.
TEKLYNX offers a wide variety of options for determining the best print management solution for your Enterprise. SENTINEL Print Pack and SENTINEL Data Exchange are cost-effective, scalable software solutions that eliminate costly, custom, host-side programming.
SENTINEL Software Advantages:
SINGLE SOLUTION
One integrated solution versus many discrete ones to bridge the gap between host systems and AIDC printers and devices.
FLEXIBLE
Integrate with multiple systems and print to multiple printers across your Enterprise environment.
SCALABLE
SENTINEL can grow with your business quickly and easily without custom programming.
UNIQUE
Only TEKLYNX offers a bridge that supports all of your AIDC needs on the shop floor — from data collection to label printing.
Centralize Label Printing and Print Management
Move your label printing from the desktop to the server room. With SENTINEL you can manage hundreds of printers in multiple locations from your server. Printing is automatic and event driven, based on data or events within your business processes. Printing runs as a service and SENTINEL monitors the label printing - so you don't have to.
Any Data - Any System
SENTINEL's unique Mapper tool does all the work for you by decoding any type of data and automatically mapping it to text or bar codes on your labels. You can automatically and continuously convert data from disparate systems like Oracle and SAP. SENTINEL can direct the movement of captured data through the enterprise, serving as a single AIDC solution.
Market Proven
As an elite Microsoft Gold certified partner, TEKLYNX has the experience and technology to offer the best server-side printing solution. SENTINEL is a 5 th generation product and is proven with thousands of global installations. It integrates seamlessly with the industry leading label design brands - CODESOFT and LABELVIEW - offering unmatched flexibility and performance.
Scalable, Flexible and Ready for the Future
Invest in a solution platform for future growth and take advantage of the interoperability among TEKLYNX products . SENTINEL S/5 bridges the gap between host systems, AIDC printers and devices as one integrated system. Only TEKLYNX offers a suite of products that enables you to collect, process and print seamlessly.
How It Works
Data Input

. Data can arrive via a TCP/IP port, as a data file saved to a watch directory, as a file printed to a virtual printer, or via a Data Collection Server.

Processing

. Data is then processed based on predetermined rules (defined as a mapĚ) and printed through the print engine.

Reporting

. (Optional) Reporting information can be e-mailed in realtime to an administrator to indicate a problem or activities can be logged for historical purposes.

Output

. (Optional) Data can be outputted for archiving or as input to another watch.
Teklynx SENTINEL ™
SENTINEL Print Pack is an event-driven, high performance AIDC data management tool designed to process enterprise wide data collection and label printing requests regardless of the format, technology or system. It automates the printing of bar code, compliance or RFID labels created with LABELVIEW™ or CODESOFT® label design software.
SENTINEL Data Exchange
SENTINEL Data Exchange precisely and easily manages advanced automated label printing needs and directs the movement of collected data through the enterprise, serving as a single AIDC solution for your enterprise environment. It has all the functionality of the SENTINEL Print Pack product, and also includes the following additional plug-ins:
Web Service input plug-in collects data from web applications and can process the data using any SENTINEL process plug-in.

Database process plug-in processes data received from an input plug-in and updates, inserts or deletes records in one or multiple databases. The Database plug-in can also activate stored procedures in a database.

Web Service Client process plug-in uses a sentinel to call web service functions along with parameters from received data.