Department of Defense UID Compliance Solutions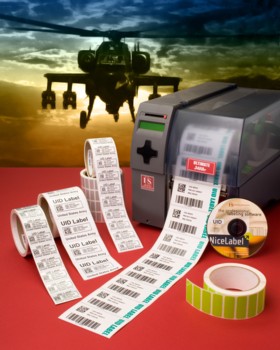 The United States Department Of Defense has adopted both the ISO 15434 and ISO 15418 standards as part of its UID (Unique Identification) program for parts in the U.S. Department of Defense inventory. In addition, the U.S. Department of Defense has defined a specific structure for data included in UID codes in accordance with ISO 15434 and ISO 15418 requirements.
The Industrial Labeling Systems UID Printing System gives you a PC based "turnkey system" to print UID compliant labels with ease, while our UID Verification System ensures that data within a code meets the standards as outlined by ISO 15434, ISO 15418 and the U.S. Department of Defense.
Printing UID Labels
Our TPS-3460XT-NLS barcode label printing system includes all the components you will need to print UID labels within minutes of setting it up. The system consists of the following components:
• ULTIMATE 3460XT 600dpi, 4"-wide barcode printer
• ILS NiceLabel Suite software with custom front-end screen design and UID string generation capability
• USB communications cable from the Windows PC to the ULTIMATE printer
• Free installation and training assistance by one of our experts to get you up and running as quickly and as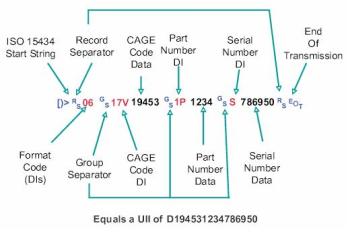 pain-free as possible
When you combine our UID Printing System with genuine Industrial Labeling Systems labels and ribbons, we guarantee that you will meet the UID requirements 100%.
We offer a handheld, as well as a desktop UID Verification System . Both include the scanning and verification hardware, as well as a PC based software to configure, verify and analyze the data.
Verifying UID Marking
Our Verification Systems meet the requirements of the AIM (Association for Automatic Identification and Mobility) 2D Data Matrix code quality grading requirements, as well as the UID requirements as defined by the United States Department Of Defense.
Both units have variable lighting capabilities controlled by the application software included. Depending on the marking technology or the surface marked , you might need completely different lighting to achieve the desired results. When combined with the outstanding optics deployed, the results are remarkably reliable.
PC Based Configuration and Verification Software
Each unit ships bundled with the necessary communications cables as well as a powerful software application that simplifies initial reader setup, data validation, and code quality verification. The easy-to-use screens clearly displays all the necessary parameters to meet the AIM DPM and the UID specifications.